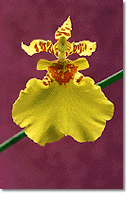 Hamilton Orchids & Plant Designs
was founded in Marin County, California in June of 1984 (began as Nature's Calling), a full service interior plant design company. Owned and operated by Crisler Hamilton, whose background includes landscape architecture and botany, the company expanded into Finishing Touches designing and selling greenhouses and greenhouse equipment.

As past President of the Marin Orchid Society and board member, Crisler is currently the American Orchid Society representative. He has always enjoyed working in the world of plants and orchids and has built a sizable personal collection.

We now have a staff of friendly, knowledgeable people with diverse plant backgrounds ready to assist you with your needs. We specialize in providing beautiful orchids and plants to compliment your decor and keeping them in excellent condition with guaranteed service. We are cultivating happy vibrant plants.

Serving the San Francisco bay area call us toll free at 800/499-4249
---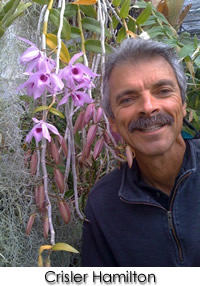 I have been into plants since I was about 4 years old. I have pictures of myself watering this one corner of my backyard that would turn green each Spring with annual grass. There was a Nursery that went in by my neighborhood when I was 11 years old and I remember buying a package of wild flower seeds. I sprinkled them around the 2 orange trees in the backyard and they started to sprout and grow. Just as they were looking like nice plants, my Dad moved the family to Mississippi. I never got to see them bloom.
I took plant and horticulture courses when I got back to California in High School. I landscaped my backyard as a school project and entered the Los Angeles Beautiful contest put on by the Women's Architectural league. The project won Second place among many entrants. I was delighted!
I went to Pierce College in Woodland Hills, California studying Landscape Architecture and Botany. While I was going to school I had the opportunity to work for a couple plant guys that had a business called The Plant Shop's Botanical Gardens. They were avid plant collectors and I was emersed in all kinds of strange, rare, and wonderful plants. Many types of tropicals like Dioscoreas (elephant foot plant), Rex Begonias, Hummel crosses, Bromeliads, Anthyriums, Succulents, etc. I really got interested and learned a lot.
I went to College for 3 years, I found that I liked working with plants hands on. I did not like drafting and doing blue prints, architecture. I would come home with headaches after working on Landscape architecture plans.
I learned a bunch of other trades like auto mechanic, House painter, Sales Rep, Before moving back to the SF Bay area I worked at a company called Father Nature as an interior plant tech. That was what got me interested in having my own plant business.
In 1984 I started a company in Marin called Nature's Calling. We were an Interior and small spaces plant service. I was pounding the pavement and building a nice small business. One of the clients I had at the time was a large garden in Sausalito. The property use to belong to the 'Hallmark cards' family and the people that owned it then were going to England for a year. They rented the house out and hired me to take care of the garden. I was told that the reason I was chosen was because they could tell that I really loved plants!
I was also working as a General Contractor with my business 'Finishing Touches'. Around 1989 I bought a competing business called All Marin Plant service. That more than doubled my plant accounts. The plant business made the best sense as I had around 55 clients and that meant 55 checks coming in each month. I let go of the 'Finishing Touches' business as it was difficult to keep projects on line and keep my employees working constantly. I focused on the plant business.
We have great employees and the most important thing I look for in an employee is someone who really loves plants!
In 1995 I changed the name of the company from Natures Calling to Hamilton Orchids. The business was specializing in orchids and orchid services as well as interior plant care and installations.