Fine Living: 59th annual orchid exposition highlights the visually stunning flowers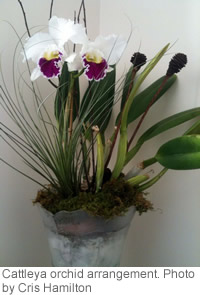 A SINGLE UNADORNED ORCHID may be pretty, but arranged orchids are even better, insists Cris Hamilton, owner of Hamilton Orchids.
And, compared to cut flowers, orchids — either single or arranged — are a great bargain.
"The flowers of orchids are visually stunning, some are fragrant, and they can really brighten up a room or an entryway," he says. "And, while cut flowers last about a week, orchids can perform from three to eight weeks. And they've got that great orchid mystique."
The Mill Valley resident has been boarding and leasing the plants to homes and offices throughout the Bay Area since 1984, and he has a large personal collection of rare and unusual specimens, including one that looks like as if there's a monkey face inside.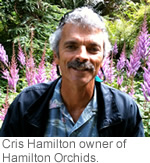 For the fifth year in a row, Hamilton will be selling orchids, or more specifically orchid arrangements, something he usually only does by special request, during the 59th annual Pacific Orchid Exposition.
Many of the groupings will feature his favorites, the cattleya. "It's a big showy flower that smells good and shouts out, 'I'm an orchid!" Of the cattleyas, he says, his favorite has big white blooms with burgundy lips. "It's awesome."
The exposition, the largest show of its kind in the country, will showcase more than 150,000 type of orchids, docent tours, educational lectures and a gala benefit preview with celebrity appearances, live music and wine tasting. The event, sponsored by the San Francisco Orchid Society, is the organization's largest fundraiser.
Anyone can try his or her hand at orchid arrangements at home. Hamilton offers some tips to make them successful.
Choose a container: Hamilton likes shallow ceramic pots or wicker baskets in a neutral or bloom-coordinating color. "Make sure there's felt on the bottom or rubber under the feet so the table won't be scratched," he says. "Put a plastic liner inside the container to waterproof it."
Choose the orchids: Cattleyas bloom for about three weeks and dendrobiums or phalaenopsis, placed in the right light, can last "a ridiculously good amount time of time, easily a couple of months." For fragrance, he suggests Oncidium Sharry Baby for a chocolate-cherry smell or cattelyas "that have a nice perfume anywhere from vanilla to a Johnson Wax smell."
Arrange the potted orchids in the container and add pots of 4-inch ivies or ferns. "We also use a lot of air plants that are somewhat related to orchids," he says. "They make a nice tropical look and they're a good way to fill in space and create balance."
Substitute natural materials such as curly or pussy willow or curly kiwi for nursery support stakes. Tie orchid stems to them with raffia or paper-coated vine wire.
Add decorative objects like sliced-stem balls that resemble woven wooden balls. "Tuck them in at the base of the plant or off to the side," Hamilton says. He also uses large dried mushrooms from floral supply stores.
Conceal the pots with Spanish or sheet moss. "I've even used moss from our native oak trees," he says. "It makes for a nice look."
Choose plants in threes, or odd numbers, such as three orchid spikes or three separate plants.
Coordinate to the room: "White usually works pretty well in any room except one that's totally white," Hamilton says. "If the orchid is going into a room with color, choose an orchid close to that same shade."
Harmonize: If using the same variety, use the same color. If combining different varieties, choose different, but compatible, colors and varying heights. Place the largest orchid toward the back.
Be artful: "It take a nice eye and creativity to do arrangements," he says. "Every orchid is unique. Work with what the plant is telling you."
Light: Place orchids in a fairly bright light. Morning light is ideal, he says. "If it's in a dark location, you'll wind up losing the flowers and then the plant."
Warmth: Keep orchids warm, above 60 degrees, at night.
Maintenance: Snip off blooms when they're spent or replace the plant if the rest of the arrangement is still blooming. Water in the morning so any water trapped in the orchid crown can evaporate. Mist each section of bark around the orchid with 15 to 20 spurts of waters. "That spreads an even layer over the roots and bark," Hamilton says. (If an individual orchid is not staged, running water through the bark is fine.)
Fertilize orchids regularly, even those in bloom. Mist the bark, until water drips down to the roots, with a balanced fertilizer at ¼ strength once a week for three weeks. On the fourth week, mist with water."
Repot once a year. Decaying bark prevents oxygen getting to the roots.